On this Sunday decided to take a drive north east to Port Huron. The idea was to drive along side water starting from Lake Saint Clair to Lake Huron via Saint Clair River.
Anchor Bay / Algonac
The Anchor Bay is the first stop and is an area North of Lake Saint Clair. It is a very shallow bay with a max water depth of 11 feet. Driving from Saint Clair Shores you can pretty much take Jefferson Blvd all the way to New Baltimore, where Jefferson turns into Hwy 29. Then follow Hwy 29 to Algonac. The only place where Jefferson is broken is near Selfridge Airforce base in Harrison Twp. Then you need to get onto I-94E momentarily and then take exit 240A to eventually get back on Jefferson.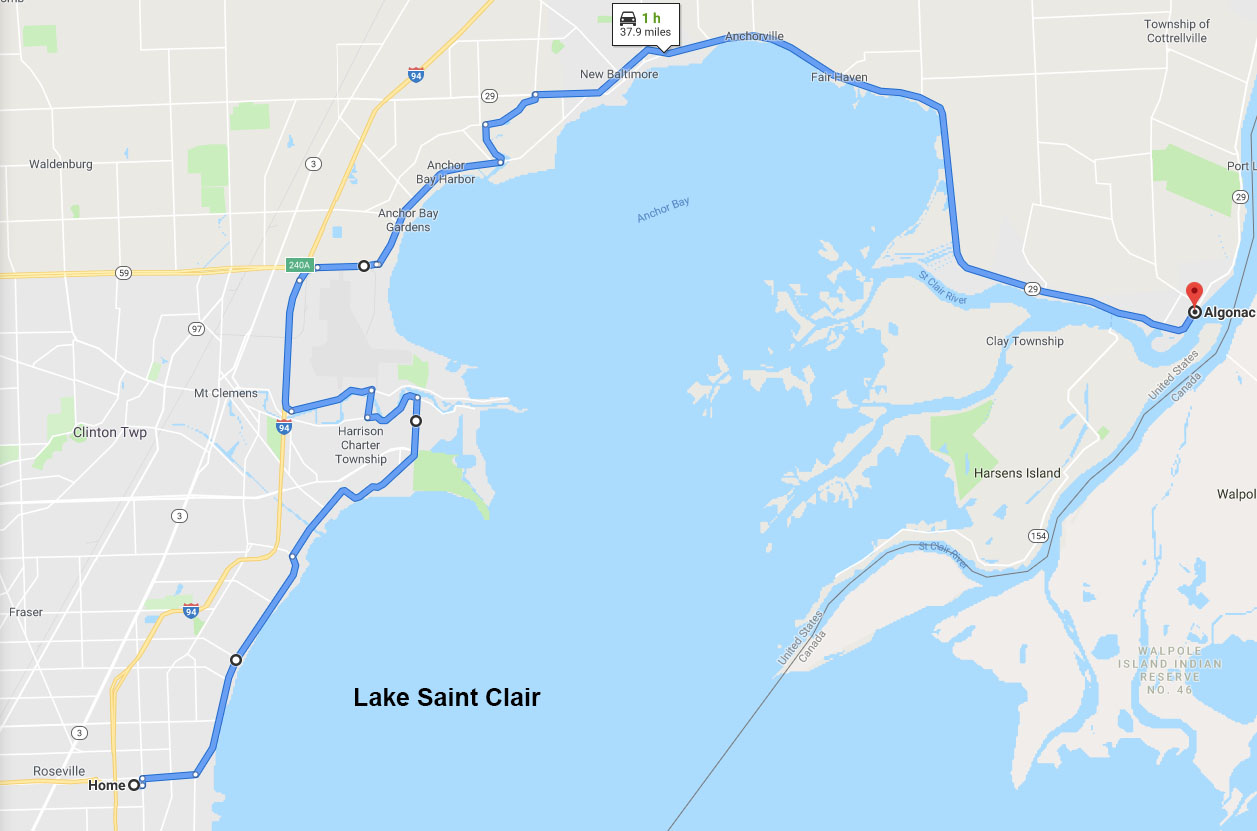 Algonac State Park
Algonac State Park was a chance discovery. Saw it on the map while driving and decided to explore. Apparently, learned it afterwards that this park is an excellent area to watch Lake Freighters, those giant ships that carry freight through great lakes and beyond. Too bad we didn't see one but the view of the Saint Clair River was pure gorgeousness. Also, across the river is Canada and this was the closest view of the Canadian land from the United States. The State Park had nice campgrounds and appeared really busy for this season. Driving around in the Park we also saw there is Archery and Shooting range. Please note that in order to get inside the park you need Recreation Passport which is $11 if you get it with your license plate renewal. Fortunately, we had one and felt awesome to just drive into the State park without paying anything at the entrance.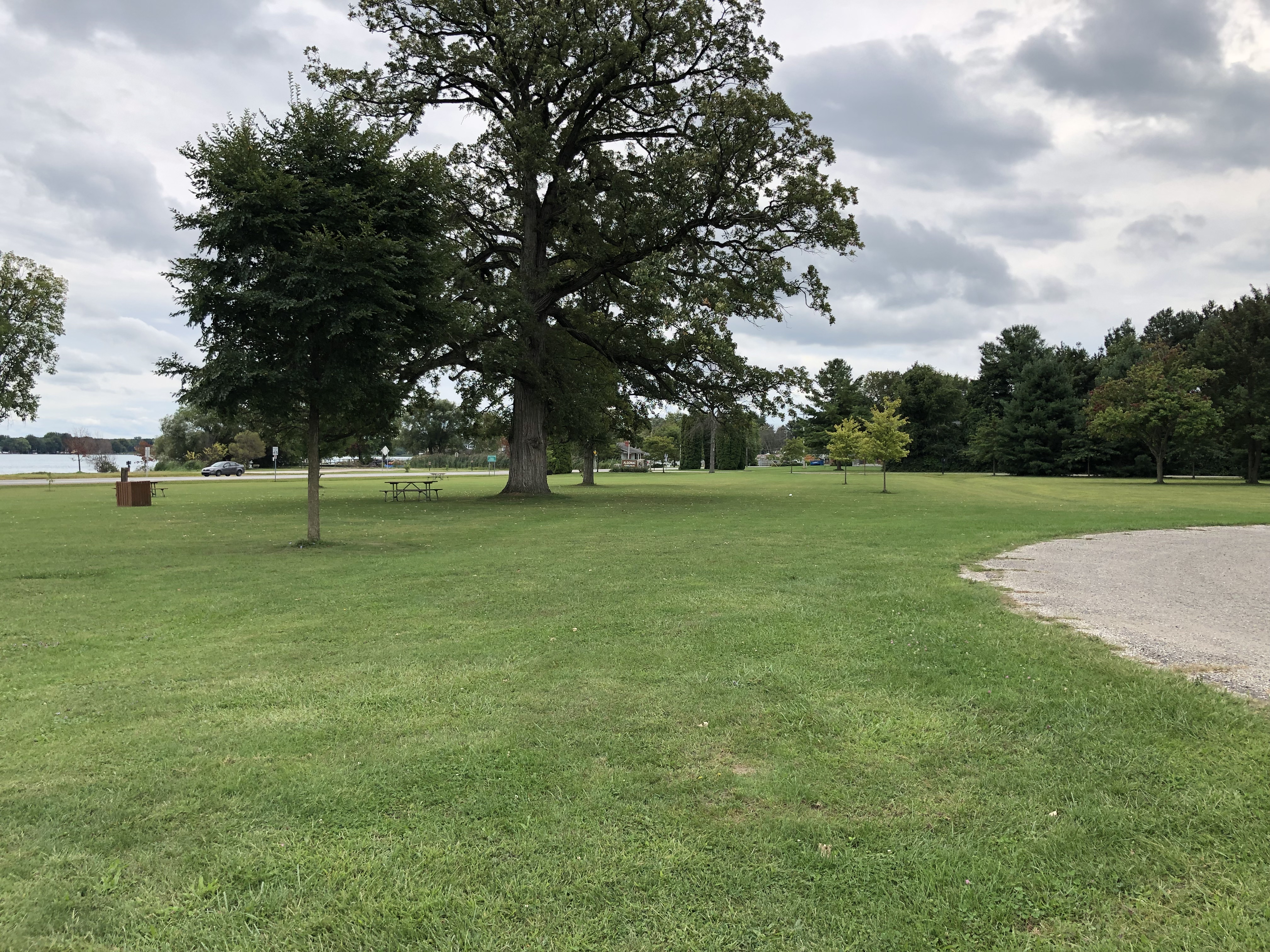 Saint Clair
From Algonac State Park you can pretty much take Hwy 29 up north to get to Saint Clair and eventually Port Huron. This drive is all along Saint Clair River. There were some gorgeous houses and views along the way. Also, you are driving alongside US-Canada border. We stopped at the Palmer Park in the city of Saint Clair for first hand experience of the magnificent views. I wish the weather was a bit warmer though because with the wind it was cold even at 2 in the afternoon, and of course we were in summer wear – shorts and T-shirts.
While driving to Saint Clair, we also saw Saint Clair Power Plant which is owned by DTE and is one of the largest power plants in the world. It runs on Coal and Oil as the fuel to generate electricity and powers metro Detroit area.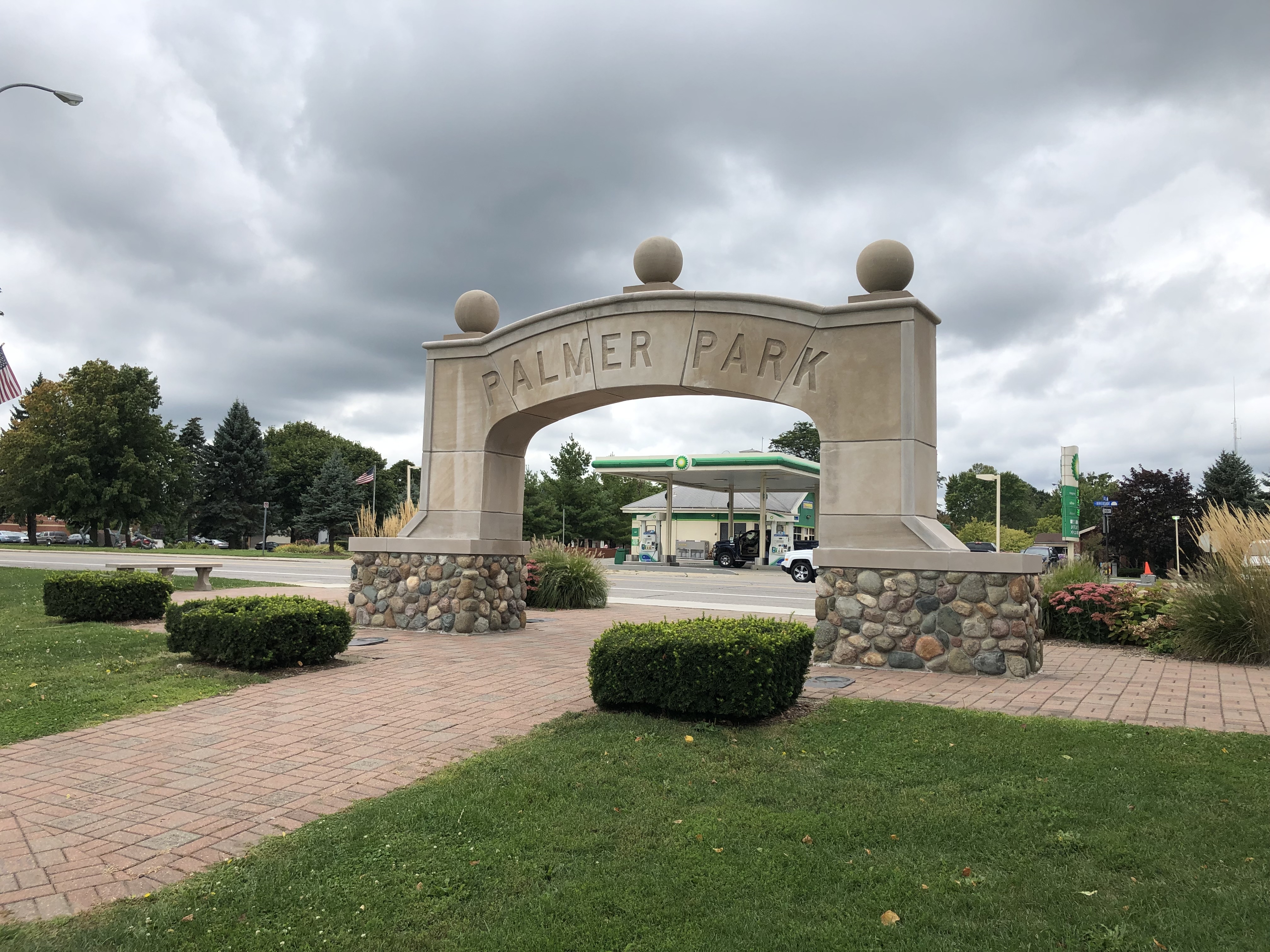 Port Huron
At this time wife & I were feeling a bit peckish. However, we decided to continue our journey and find a place to eat in Port Huron. Fortunately, this drive is only 20 minutes. We stopped by at a place called Fuel Woodfire Grill and ate some tasty BBQ style food. Then after eating decided to explore Port Huron.
Port Huron again has amazing river side views – Blue Water Bridge, Saint Clair River and Lake Huron. Blue Water Bridge connects Port Huron, United States to Sarnia on the Canada side. This bridge is a massive structure just like the Ambassador bridge in Detroit. Rightly so, because it has to let those huge Lake freighters pass underneath it. One can also see views of Lake Huron at the point where Saint Clair River meets the great lake.
At this location, scuba diving is also pretty common and we saw a few divers getting ready to get in the water. I read on the internet that there have been many underwater preserved shipwrecks that are popular places for scuba divers. Sadly, I have never done scuba diving but definitely sounds something interesting.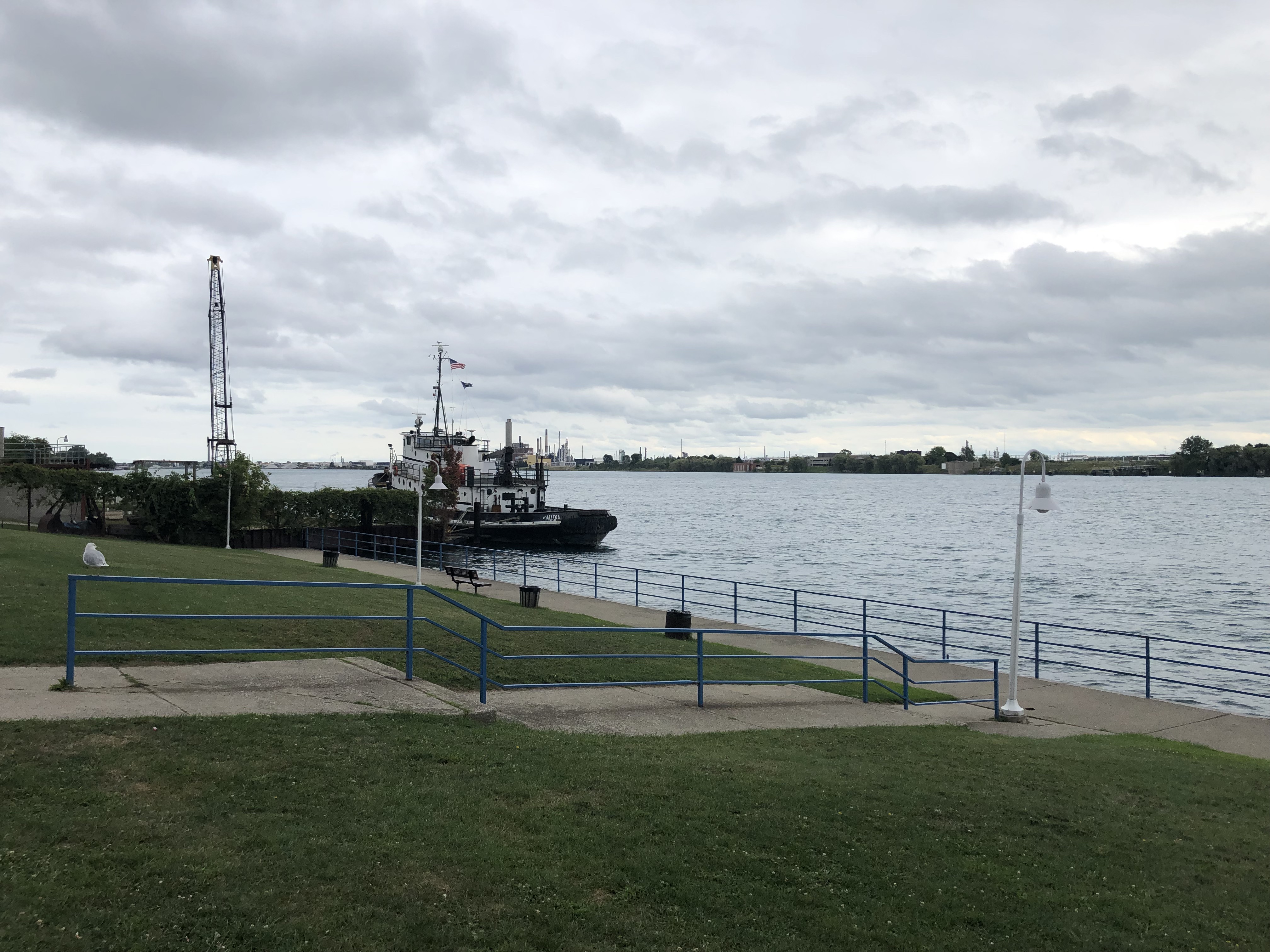 Sorry the video isn't very good but gives an idea of the awesome view
Wrap Up
On our way back, we took the I-94 west and got home in 45 minutes. While going to Port Huron we took a more scenic route with various stoppages and it took us ~3 hrs. The map below shows the route we took going to Port Huron. Of course the time shown below isn't accurate because we stopped at various locations and were driving slower than usual.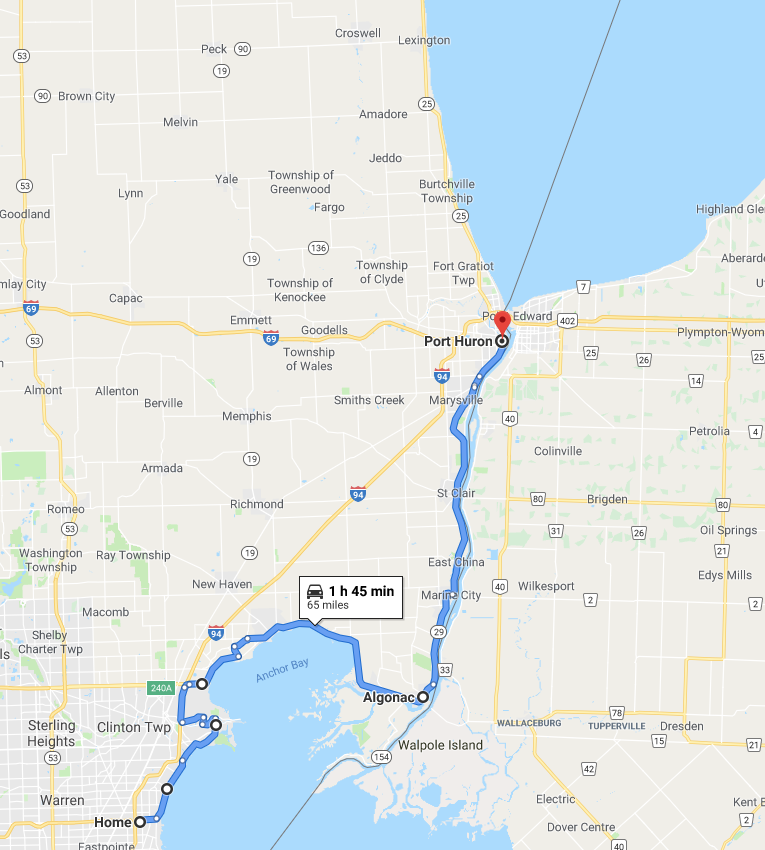 Seeing what we were able explore in less than 5 hours, we would definitely come back and this time we will simply take I-94 east bound all the way to Port Huron. Additionally, we were not dressed appropriately for the weather. It was definitely very cold at Port Huron due to which we couldn't walk much along the riverwalk. Overall, simply stunning views driving along the water.