Macomb Orchard Trail is a 23.6 mile lightly trafficked point-to-point trail from Rochester, MI to Richmond, MI that features beautiful wild flowers. The trail is good for all skill levels and offers a number of activity options.
The trail has many entry points and parking lots to start your ride from. Please note, if you use AllTrails.com, it will point to a starting address which is not a convenient location to begin as there is no parking. We found that the trail actually starts on Dequindre, therefore, best place to park is actually "Onyx Rochester Ice Arena" which is right across the street (See the map below).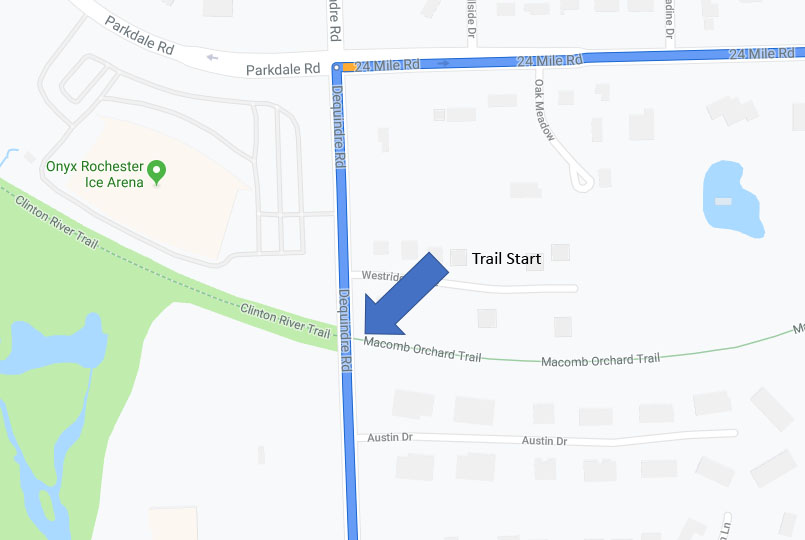 The trail itself is fairly flat but for an average cyclist like me it could feel a bit of a workout. The entire bike path is nicely paved and please note that it does cross busy streets several times. The day we went, it wasn't too busy even though it was a weekend. However, it could be due to the fact that the weather was overcast with some light rain on and off but not throughout the course. Along the trail, you will see lots of greenery and for the first couple of miles nice big houses on the sides. As you go further away from the start point, it will slowly transition into a beautiful country side. Unfortunately, I didn't stop to take pictures as I wasn't carrying my phone with me but perhaps I will upload some shots in future if I get an action camera like GoPro.
The trail is 24 miles in length one way. As you can imagine it is a little too long for an average cyclist. Therefore, we ended up turning back around half way mark near Romeo, MI. Overall, it was a nice experience at the trail and I will definitely go back to maybe cover the full two-way distance of 48 miles.