We have been living in Saint Clair Shores for over 9 months now and I must admit that we are still discovering new things every day. For example, I had no idea that there is a wonderful place called Lake Saint Clair Metrokpark, literally in our backyard. We discovered it one day while returning from a morning ride at Clinton River Loop. We had decided to not take the highway and just keep going inner roads back home until we wandered away and found ourselves at the end of the Metro Parkway where it meets Jefferson. Boy.. it was a shock to see a park entrance. We didn't go there that day but decided we will come back for sure.
So, a little bit about Metroparks… The Huron-Clinton Metroparks, is a regional special park district encompassing Livingston, Macomb, Oakland, Washtenaw, and Wayne counties. This is different from State parks and there are a total of 13 metroparks in the Detroit area covering almost 25,000 acres and serving over 7.3 million visitors on average annually. The Metroparks are located along the Huron and Clinton rivers, providing a greenbelt around the Detroit metropolitan area. The parks are, generally, more than 1,000 acres each, with Stony Creek and Kensington being more than 4,400 acres each. Lake Saint Clair Metropark is one of the 13 parks and an absolute amazing place to be during summer!
Back to our ride. So, we decided to head straight from our house to the park on our bikes. It is ~13 miles one way from where we live. While planning the ride, I was a little bit nervous because most of it was going to be on the sidewalks next to busy roads in Saint Clair Shores without much shade. However, we proceeded as planned. The ride didn't turn out to be too bad even though it was hot and sunny as heck. On the way, riding on Jefferson, we saw a few of the most amazing lakeside houses… I mean they are literally mansions!!
As expected, most of it was on sidewalk next to Jefferson. However, there was at least a couple of places where sidewalk wasn't there, and we had to walk our bikes. Also, it had rained in last few days, and many areas were flooded. I mean there were literally street closures in Saint Clair Shores due to flooding. As you get closer to Ballard and Jefferson, the sidewalk will turn into a bike trail which is what will lead you to the park. The trail actually is called Freedom Trail and is part of the whole metropark trail system. While it was nice to have a paved trail all the way to the park, you do end up covering more distance as it turns away from Jefferson and then curves along I94 and Metro Parkway, all the way to the park.
Okay, so one thing I want to mention is that Metroparks have their fee to enter by car. The fee is $10 for day pass and $35 for an annual pass. Obviously, on this day, we decided to leave our car at the house, so we didn't have to pay anything. However, if you bring your car and don't really have a pass or want to pay for day pass, you can park your car at a couple of locations.
The first parking location is basically where the sidewalk turns into Freedom Trail. Park at the lot as shown in the location below.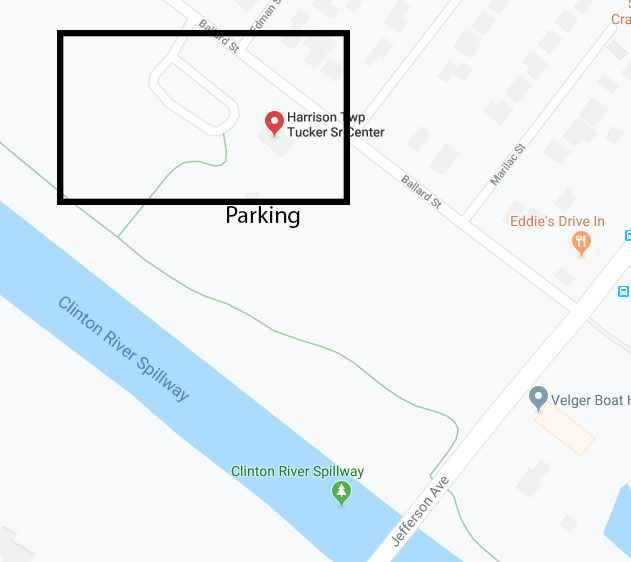 Second location is right before park entrance. However, I am not too sure if this is safe but I did see several cars parked with bike mounts.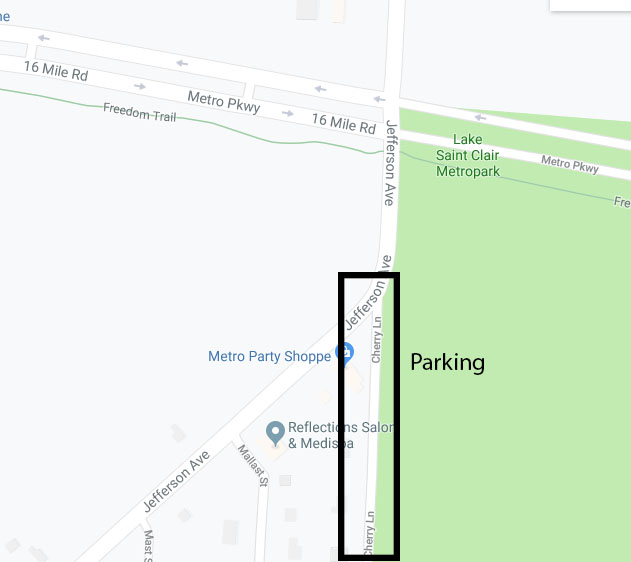 Overall, it was a fun day of biking. We covered ~25 miles to and from the park. It was tiring but really worth it. At the park, we ended up soaking our feet in the nice cold Saint Clair Lake water and telling ourselves how could we not have known of this place. We left the place deciding to come back soon for more fun.
Below are some pictures captured along the route.