Over the weekend I decided to try out Apple Music. We're invested in Apple ecosystem – have 2 Apple TVs, both wife and I have iPhones, and Apple Watches. I own MacBook Air, and a Mac Pro, and recently we bought a HomePod mini getting rid of all Alexa's. With the HomePod mini, received a 6 month trial of Apple Music so decided it is time to try. Wife had already been trialing Apple Music, and had good things to say about the service. Also, just googling on the internet about different services found Apple Music is actually pretty top notch and is very close to Spotify in terms number of songs (50M+).
Now, up until this point, my go to for music was Plex hosted on my home server. Over time I have accumulated quite an extensive music library, and have my favorites in the playlist containing 300+ songs. So, a big impediment in the way of moving to Apple Music was to get the playlist created within Apple Music. I of course don't want to manually look for the songs, and one by one add to my new playlist in Apple Music. There has to be a better way.
Just googling I found out about a service called Soundiiz. It allows migrating of playlist from one service to another. Fortunately, it supports both Plex and Apple Music. Decided to try the service. After creating the account, connecting to Plex was easy peasy. You just sign in using Plex.tv account, and it instantly pulled my playlist. Then all I had to do was, select the playlist, and choose convert option.

Once you select Convert, the wizard is very intuitive. Review the details, choose tracks you want, and then for destination select Apple Music. Once you select Apple Music, you will be ask to connect your Apple Music account to Soundiiz.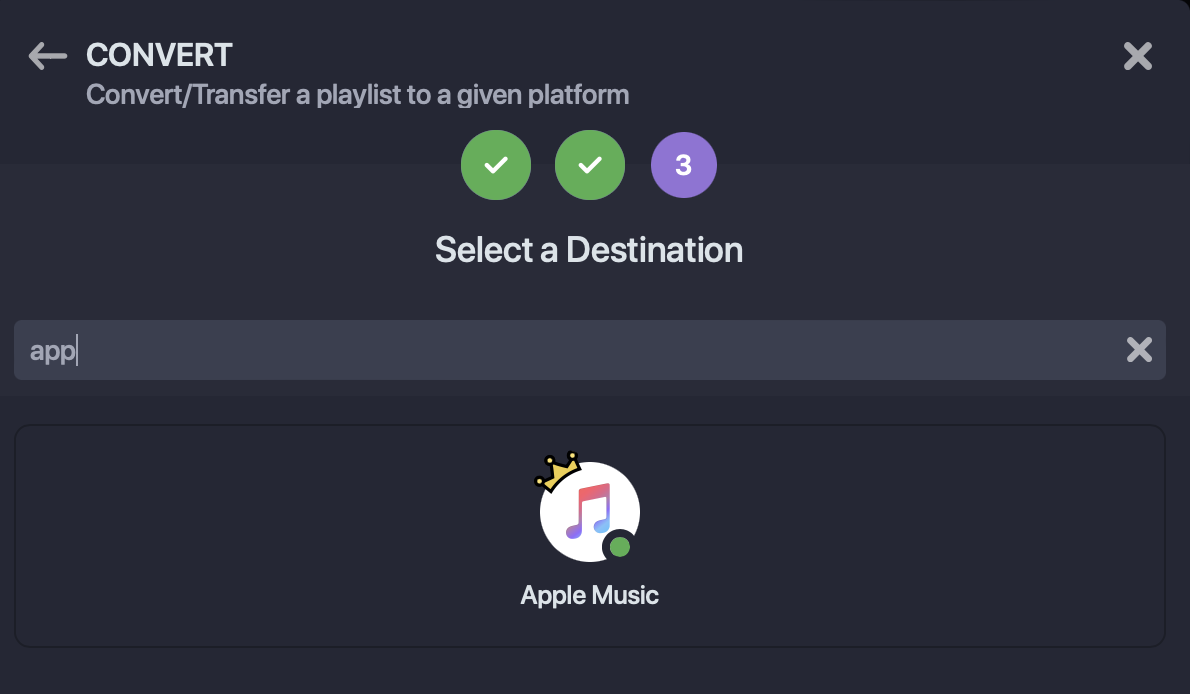 The migration process actually took less than 5 minutes, and the playlist showed up right away inside my Apple Music app. During the migration there were 5 tracks that were not found in Apple Music mainly because the metadata in Plex wasn't resulting in a match on Apple side. I manually looked for those 5 tracks in Apple Music, and then added them to the new playlist. It was heck of a lot better than having to manually add 300+ songs.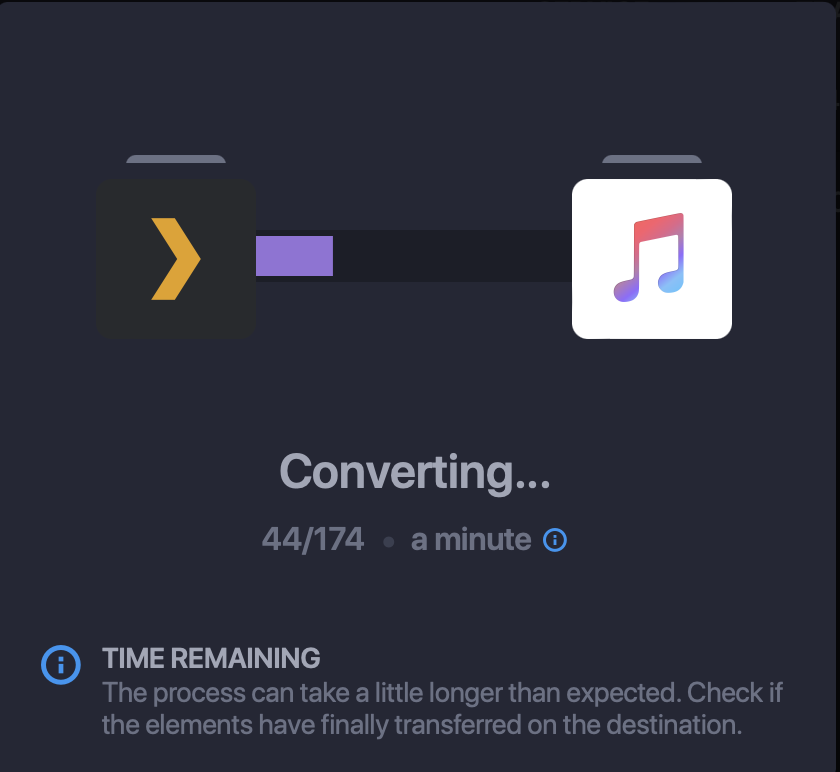 Now one thing about Soundiiz is that the free account only supports converting maximum of 200 songs in a playlist. Therefore, if you have a large playlist like I do, and if you do not want to pay for premium upgrade ($3 per month), then simply split your Plex playlist keeping only 200 songs in each of the splitter playlists. To split, do this:
Find out how many playlists you need. For me it was 2
Clone the master playlist into 2 other playlists inside of Soundiiz
Shorten the 2 playlists to only contain 200 songs – Song 1 – 200 go to New Playlist 1, Song 201 – 400 go to New Playlist 2
For each new playlist, run the converter